Markets in Morocco.. Souks in morocco
Travel to Morocco & Shop the worlds best Souks & Markets
Souks and markets are a major feature in Moroccan life, and among the country's greatest attractions for Moroccan traverls. Each town has its special souk quarter, large cities like Fes and Marrakech have labyrinths of individual souks (each filling a street or square and devoted tone particular craft), and in the countryside there are hundreds of weekly souks, on a different day in each village of the region.
Whether or not you are a big shopper, going to a Souk is a cultural experience that should not be missed on a trip to Morocco. Find the medina, the central and oldest part of the city, and your journey has almost begun. If you feel slightly overwhelmed when you enter a lively area filled with artisan shops, aromatic bakeries, and excited shopkeepers eager meet you, you have found the souk.
Travel to Morocco and shop the souks of Marrakech, Fes & Ouarzazate (Book a Tour or call (800) 787-8806. Let us be your guide to Morocco Travel.
When the first souks appeared within Morocco, they were nothing more than small areas outside the city for merchants to display and sell their goods. Yet, as city populations grew, so did the souks. Today souks have become an important part of the culture socially and act as the heart of any large Moroccan city. Some souks are seasonal or annual while others like the Djemaa El Fna market in Marrakech are famous for snake charmers, storytellers, musicians, dynamic acrobatic events.
Some of the villages or areas between villages are in fact named after their market days therefore it's easy to see when they are held. The souk days are:
Souk el Had – Sunday (first market)
Souk el Tnine – Monday market
Souk el Tieta – Tuesday market
Souk el Arba – Wednesday market
Souk el Khamees – Thursday market
Souk el Sebt – Saturday market
There are few village markets on Friday (el Djemma – the "assembly", when the main prayers are held in the mosques), and even in the cities, souks are largely closed on Friday mornings and very subdued for the rest of the day. Village souks begin on the afternoon preceding souk day, as people travel from all over the region; those who live nearer set out early in the morning of the souk day.
It can be helpful to be accompanied by a guide if it is your first trip. A souk can feel a little bit like a labyrinth, and it is easy to get disoriented. One suggestion is to find a map and get familiar with the layout of the souk to minimize chances of getting too lost. There are various sections within a souk specializing in a unique skill or craft. Examples include the textile souk, rug souk, jewelry souk, the fabric souk, the spice souk, and the leather souk.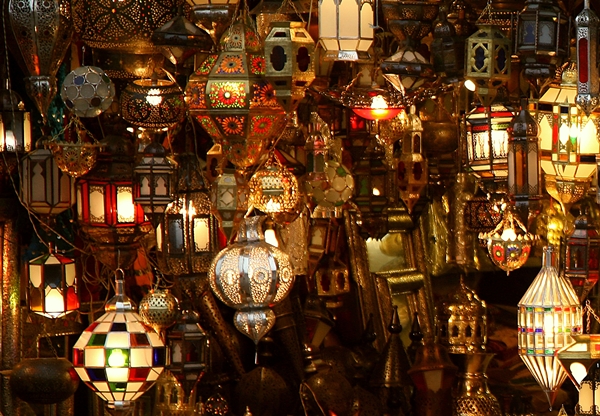 morocco culture,moroccan food,morocco food,moroccan cuisine,morocco beaches,moroccan meal,beaches in morocco,moroccan culture,hercules cave,hercules cave morocco