Sweet Couscous maftoul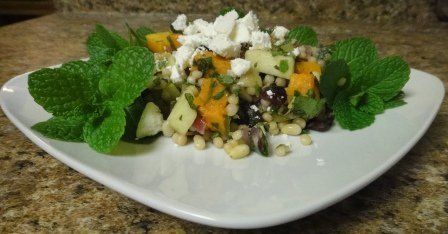 Recipe suggested by: Choukria
Origin of the recipe: Lebanese Cuisine
Number of persons: 6 Persons.
Preparation Time: 0 h 15 min
Cooking Time: 0 h 25 min
Difficulty: Easy
Price: reasonable
Ingredients:
200g white maftoul
1 cinnamon stick
3 tbsp. with chopped almonds
100g of sugar
100g clarified butter
1 mashed banana
50 cl of milk
1 tablespoon. coffee spoon of crushed cardamom seeds
1 tablespoon. tablespoons of raisins
Maftoul sweet couscous preparation:
To prepare the couscous recipe maftoul mellitus:
In a heavy saucepan, heat the clarified butter with cinnamon. Add maftoul and almonds and cook everything on low heat, stirring often, until slightly blondissent ingredients. Add sugar and stir until melted. Then add the banana and stir well. Off the heat, add the milk, stir and put on fire.
Cover half the pan and cook over low heat until completely absorbed maftoul have milk. The end of cooking, add the cardamom and raisins. Taste a grain, it must be cooked at heart.
Otherwise, add a little milk and cook.
Remove cinnamon and serve warm.
morocco culture,moroccan food,morocco food,moroccan cuisine,morocco beaches,moroccan meal,beaches in morocco,moroccan culture,hercules cave,hercules cave morocco